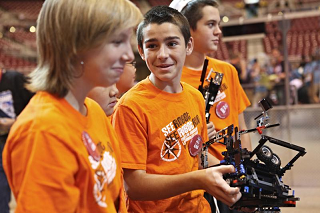 Lego League is a powerful program that helps young students discover the fun in science and technology while building self confidence, knowledge, and valuable life skills.  This program introduces students to real-world engineering challenges by building LEGO-based robots to complete tasks on a dynamic playing surface.  FLL teams guided by their imaginations and coaches discover exciting exciting possibilities while learning to make positive contributions to society through a team project presented to a panel of judges.
The Lego League season is from August 1st through December.  Teams will typically meet 1-2 days per week at the discretion of the coach. 
CONFIRMED OSHKOSH LEGO LEAGUE OFFERINGS
Alps and Tipler: Grades 4-8 (full)
Fee: $100 per student.  This program is exempt from the family cap.
Dates:  Season kick off is August 1 and the season runs through Mid-November. Teams may advance to higher levels of competition extending the season.
SCHOOLS WITH VACANT COACHING POSITIONS
Traeger Elementary: Grades 4-5

Oakwood Elementary: Grades 4-5

Merrill Middle:  Grades 6-8

Traeger Middle: Grades 6-8
Webster Middle: Grades 6-8
Oaklawn: Grades 4-5 (full)
Schools with current coaches but will refrain from the 2020-2021 season
Jacob Shapiro Elementary: Grades 4-5
South Park Middle: Grades 6-8